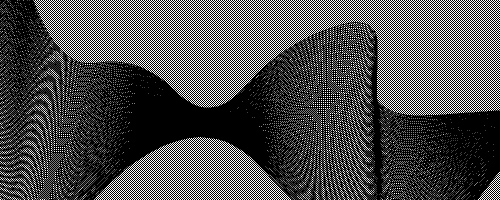 also your eyes can bleed.
this is a little experiment I was asked to make by my beloved art director at work.
Actually he was sick and tired of working on a project I'm not supposed to talk about, basically it consisted in a pinkish-brainless-girlish universe. so he asked me "do you think you could create something like the shape tweener in illustrator ( a tool to interpolate 2 shapes) so that I could create eye-screwing animations, I need a break" (approximate translation).
"sure" I said. and off I went and after a couple of attempts, here's the output:

you can drag drop invisible handles
if you want to check it fullscreen : here you go (mind your processor).
the Spline.QuadraticPath() method is the most important and can really come in handy when processing smooth pathes for sprites, particles or whatever gooey substance.
plus we could also create different steps instead of 2 and animate the handles. I kept it simple.
I switched the quality to MEDIUM in order to spare resources, if your computer is not smoking you can try to pass it to HIGH, if it is, then fall back to LOW.
in french,  "moiré" is the effect created by the variations of contrast on cloth due to the deformation of its support (the guy inside). it comes from an arabic word mohair that actually produces this effect (not so much as silk though). one can easily recreate it by overlapping two grids or two wefts(?!) of any kind ( it happens in some staircases and quite frequently in urban spaces).

the title is a tribute to 'delirium cordia séquencé' an album by fantômas I was listening to while doing this. it appears that it suits quite well the graphic effect when you stretch the surface or when you give a random smoothness to the smoothing function :)