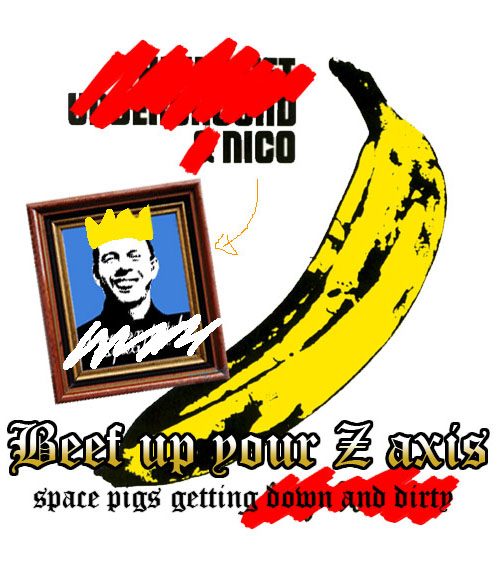 I'm excited as a schoolgirl to announce that I'll be speaking for a 180 extatic seconds during the next FOTB's elevator pitch.

the very, so to speak, 'elite' of the flash scene meets there every year and drink non stop for 3 days \o/
always wanted to see that, and this year I'll be part of it!
first of all, I have to thank John Davey for selecting me.
thank you John Davey.
now the exciting thing is that among the 20 chosen, 3 will be granted a full session in 2011!
this, my beloved reader, is what I call a stake.
even if I don't make it, it's rewarding enough to be there and share my 3 minutes with other talented people.
the title "Beef up your Z axis" & subtitle "space pigs getting down and dirty" of the pitch is a composition between 2 brilllant suggestions by dershmale & Quasimondo. I have to thank them for that.
I'll talk about 3D, I had a couple of ideas in mind but after discussing them with Jean Marc Leroux, I realized they were feeble. So I'm looking for new ideas… got a couple in mind but as we are planning to meetup in Brussels with some people I consider to be among the finest flashers around : Sakri Rosenstrom, David Lenaerts, Frank Reitberger, Alan Ross, Dominic Gräfen
I think I will change my mind again, anyway I'll have 2 months of spare time for that.
by then, I'll probably post my failed attempts here :)
can't wait to be there !
edit
Tom Vian had the very good idea to gather the pitchers twitter feeds, foolow us here: http://twitter.com/#/list/SFBTom/fotb-2010-elevator-pitch
[ after this line I'll shamelessly keep on talking about myself ]
next year I'll be a teacher! poor students…
during my last contract I met a student from the Gobelins' School (Arnaud Tanelian) and he introduced me to their coordinator.
a couple of brilliant people are already teaching there, namely:
- Philippe Elsass brilliant flasher, Flash develop's daddy (or mummy), eaze's daddy
- Tobias Muthesius member of the Lab212
- étienne mineur [fr] very talented multi media creative person
this school is one of the very best in the field of multimedia. mixing art direction, front dev, back dev + project management from A to Z.
I attended their projects presentations (diplomas) and I dare say it was very impressive.
here are the projects:

-> http://en.projet-iko.com/ // Arnaud inside

-> http://www.projet-yummy.com/en/
and they are 'only' students … we'll have lots of fun ! :D
in average, going freelance was a good choice, first I met a lot of good people, I mean good at what they do, demanding, I discovered other ways of working, tips & tricks a.s.o.
I worked on varied projets, usually in my field of " " "expertise" " " : graphics ( notice the triple double quotes). I still consider myself a jerk as compared to what can be achieved, it has something to do with the fine arts I guess ; we learn very early that we're not geniuses :)
anyway, so far so good, I am happy ; customers are happy (or pretend to), projects go online, people call me back, I'll be a teacher, I'll speak at the FOTB, life is cool.
hope it will last :)